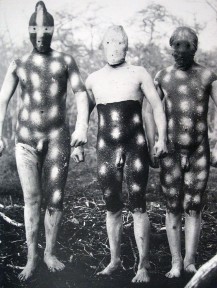 Fred est de retour d'Arles. 
10 choses qu'il faut avoir vues à Arles 2015.
1- Martin Gusinde – L'esprit des hommes de la Terre de feu. En 1918, un missionnaire allemand, Martin Gusinde, part à la découverte des habitants de l'extrême sud du continent sud-américain. On découvre une population proche de la nature, vivant de la chasse et de la pêche. Elle a de drôles de rituels. Les tenues évoquent les esprits. Pendant leurs rites, ces hommes semblent se marrer. Ils étaient plus ou moins 3500. Ils ont été exterminés par les chercheurs d'or notamment.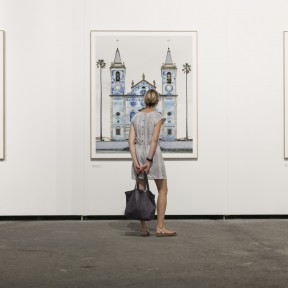 2- Markus Brunetti – Facades. A travers toute l'Europe, Markus Brunetti tire le portrait des cathédrales. Des grands tirages de près de 3 mètres. Toujours de face et selon une technique sophistiquée. A voir de loin pour admirer la facade. A voir de tout près pour voir chaque détail. Notamment les statues et gargouilles que l'on ne voit jamais très bien du pied de ces édifices.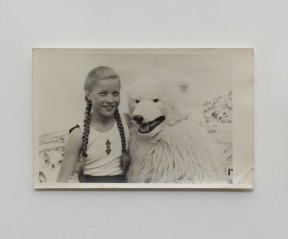 3- Vernaculaire! – Trois séries de la collection Jean-Marie Donat. Jean-Marie Donat collectionne les photographies. Lors de voyages en Allemagne, il rassemble une série de photos dont le point commun est un ours blanc. C'est tout un pan de l'histoire du XXe qui pose à côté de cet ours. Regardez le motif imprimé sur le polo de la jeune fille. Photo après photo, les événements semblent se bousculer. Seul un ours blanc échappe au destin de l'Allemagne?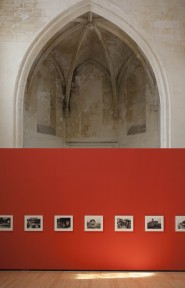 4- Another Language – Huit photographes japonais. Le noir et blanc à l'honneur dans ce très beau lieu d'exposition: l'église Ste Anne. Un coup de coeur: Issei Suda. Au bookshop, une bonne pioche: A room de Daido Moriyama. Un recueil signé, tiré à seulement 250 exemplaires.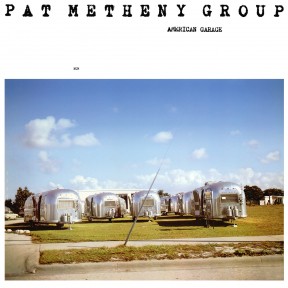 5- Total Records – La grande aventure des pochettes de disques photographiques. Je m'attendais au pire, c'était très bien, à l'image de cette pochette Pat Metheny Group signée, excusez du peu, Joel Meyerowitz. Coincidence ce disque se trouvait dans la jolie maison de mon amie Valérie. Une section particulièrement marrante: les pochettes refaites maison. A l'image de celle des Sex Pistols développée à partir d'une pochette de… Frédéric François. Tout l'humour punk concentré en une pochette de 45 tours.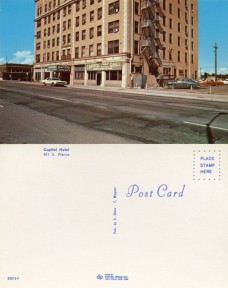 6- Stephen Shore – Rétrospective. Toujours un plaisir de revoir les tirages d'un de mes photographes préférés. Surtout ses séries "American surfaces" et "Uncommon places". Amusante, sa production de cartes postales aux couleurs saturées qu'il déposait un peu partout au cours de ses roadtrips. Moins convaincu par sa période tardive noir et blanc.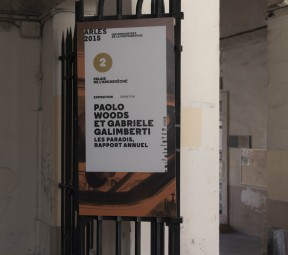 7- Paolo Woods et Gabriele Galimberti – Les paradis, rapport annuel. Une exposition dont on sort un peu déprimé. De paradis fiscaux en paradis fiscaux, on se demande où s'arrête le pouvoir de l'argent roi. Une phrase: "C'est parfaitement immoral, mais complètement légal". Sortons dehors, il fait beau, un pastis en terrasse, voilà le paradis.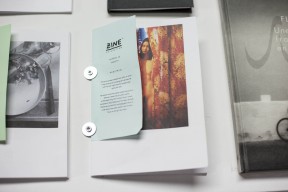 8- Cosmos Arles Books. Une quinzaine de tables avec chacune une cinquantaine de livres. J'en ai encore le tournis. Dans le tas, j'ai bien aimé: Settlement – Nick Waplington ; Country fictions – Juan Aballe; Amelia and the Animals – Robin Schwartz; Events ashore – An-My Lê; Hôtel Immagine – Simone Donati; Zine Collection N°20 Menstrual – 9mouth; Coastline – Zhang Xiao; Landscape and Industry – Michael Collins; Anniversaries – Mark Beckmann/Sarah Alberti; By rail and by sea – Scott Conarroe.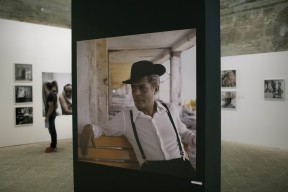 9- Fellini, 8 ½ couleur. Photographies de Paul Ronald. Pour mon ami Léon, une exposition où l'on tombe amoureux de l'Italie et des Italiens. Sur le tournage de 8 ½, la nonchalance et la classe se croisent avec une aisance qui n'appartient qu'à eux. Le beau Marcello, la belle Claudia en état de grâce.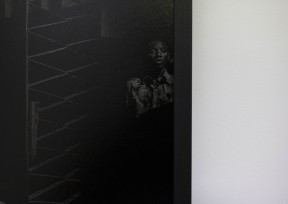 10- Alex Majoli et Paolo Pellegrin. Congo. Après une pluie dantesque, la chaleur moite des nuits congolaises. Du noir et blanc surtout, de la couleur aussi. Une faune de personnages qui semblent aussi perdus dans l'image que dans leur propre vie.
Ici se clôt ma photo review Arles 2015. Encore merci à Valérie et Stéphane.
.