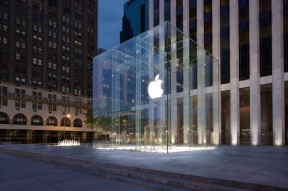 Over sought, we haven't no more time to spend in useless, not interesting or no fun choices. The mobility and the access to the Internet services transform our conception of work, leisure, rest.
It reaches a sophisticated level where consumer has access to useful, attractive and pleasant services, which respond to a need, rather than imposing the traditional old and insistent promotion. Moreover, « The consumer asks more and more to brands not only to sell and attract, but also to share and to give back. » (Gilles & Denis Deleris Gancel, Ecce logo). « The yesterday brands have a debt to their customers (…) the time of the gift-back has come. »
Would brands therefore have a societal responsibility to play, as they already do (occasionally) in architecture of modern cityscapes with contemporary concept stores (Apple Store in NY) done by award winning architects? To create new services, to entertain, to inform, to ensure the health or improve well-being… Aren't these the new advertising form of century? We knew the communication professions were changing. They probably do beyond what we can not imagine yet.