The App & Mobile Case Study Book.  
Les coulisses des meilleures apps mobile.
Une chose est rassurante, à la lecture de cette bible sur la révolution Mobile éditée par Taschen : les succès populaires (et commerciaux) doivent beaucoup au fond et à la forme des apps, à leur utilité pour les gens. Une chose l'est moins : le secteur, encore très neuf, évoluant à une vitesse effarante, impossible pour le commun des connectés de suivre le rythme. Bon, chacun son métier. 
Même à partir d'un site bien conçu, penser qu'en décliner une app se fait les doigts dans le nez est se les fourrer dans l'œil. On ne peut pas se contenter de le recoder et de créer une redirection mobile. Outre la vérification et l'adaptation des possibilités techniques, il demande une simplification absolue. Lars Basthom (3 Grands Prix aux Cyber Lions, excusez du peu) explique qu'il faut savoir faire une seule chose vraiment très bien. Contrairement aux sites chargés en actions à faire, les bonnes apps mobiles sont dépouillées, efficaces, prêtes pour l'action, toujours reliées aux réseaux sociaux. 
Quelques brillants exemples sont à découvrir sur le site de Taschen. Mes préférés:
iHobo est basé sur une stratégie solide et s'adresse à une cible connectée, les trentenaires aisés. L'association caritative qui aide les jeunes SDF en a mis un dans l'Iphone de sa cible. S'il était bien traité, sa situation s'améliorait. S'il était négligé, il commençait une descente dans l'enfer des drogues dures – la réalité pour 3 jeunes SDF sur 4. Après avoir vécu avec lui trois jours et trois nuits et développé un sentiment de responsabilité, l'app proposait de faire un don en un clic. Bien pensé, bien réalisé, touchant, concrêt. (Publicis London.)
Adidas Urban Art Guide. Créée pour les 60 ans de la marque, cette app fait logiquement le lien entre sa cible jeune et la culture urbaine, sans une intrusion trop commerciale. Le concept, voué à s'étendre à d'autres villes, a commencé par un parcours artistique dans Berlin, où des artistes ont même décidé de réaliser des oeuvres spécialement pour l'app.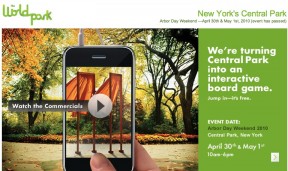 The World Park. But? Repositionner Central Park comme étant l'un des premiers parcs à thème des USA et surtout y faire revenir les jeunes dont les loisirs se passent plutôt devant des écrans. La création de QR codes disséminés dans le parc et de contenus liés à ces endroits  (films tournés, histoire, photos anciennes, etc.) fut décidée pour la journée nationale de l'arbre. Mais l'app se prolonge au-delà de ce lancement et son succès invitent les entreprises commerciales à compléter elles aussi peu à peu les contenus.